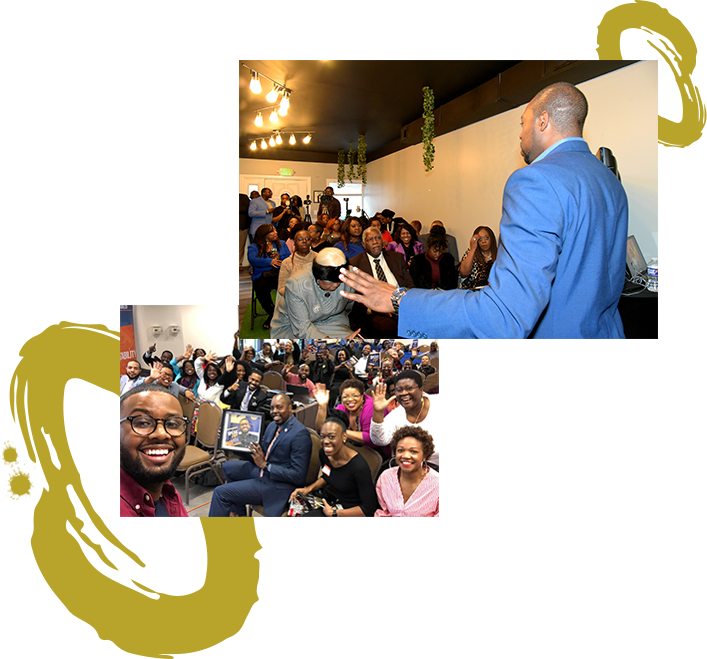 The Best Motivational Speakers Get Started Here
Famous motivational speakers are all around us, not just on YouTube or the latest conference for mega-speakers. Some are transforming their local community, one success story at a time.  But then there are people who were born for the global stage. Destined to own the spotlight, and impact the world. Which person are you?
Black Speakers Network helps you reach your people, activate your confidence, and let your voice be heard!
BSN's elite network of branding specialists, industry gurus, coaches, and even digital marketers unleash industry secrets for success daily, giving you the tools for speaking success! Become and member and leverage your speaking to generate income, impact the masses, and ignite your audience!
About Our Founder, Brian J. Olds
At the pivotal age of 35, life presented BSN founder, Brian J. Olds with a serious choice: Tell his story boldly or live in regret forever.
Since childhood, society had branded him as the lanky, peculiar kid who was best-suited staying out of the way. Nevertheless, he felt a calling on his life to reach the masses and transform lives at a young age. But in a restless city like Baltimore, MD —where Brian was raised—there is so much noise to break through just to discover yourself, let alone your transformative message.
So, for many years—like many folks—Brian reconciled with the humdrum life —until he couldn't. Soon after college, the pressure was on. When earning his degree proved to be but a stepping stone for living out his ultimate purpose, Brian knew that if he were ever to experience total fulfillment, he'd have to get uncomfortable. He'd have to live life out loud and nurture his gift of communication.
So in 2006, he did just that and joined a Bootcamp for aspiring speakers. Determined to turn up the volume on his life and break through the noise, Brian delivered his very first public address that year; palms sweating and notes dampening with every thought of being judged by a classroom full of eager and unfamiliar faces.
To his relief and destiny's satisfaction, he crushed his inaugural presentation and scored these bonus revelations: Speaking is his passion, and providing peers with dependable resources for education and opportunity is his purpose. From then on, Brian manifested his passion and purpose like wildfire—booking speaking engagements and hosting forums throughout the United States.
Pretty soon, there simply weren't enough hours in the day for Brian to travel to every aspiring speaker who requested coaching. He was sharing tried and true methods, prioritizing service to aspiring Black speakers, unlike any other industry guru at the time.
In 2016, Brian was determined to ensure that all black people could benefit from that same energy and expertise anywhere in the world. Thus, Black Speakers Network was born. BSN equips, connects, and inspires the next generation of Black Professional Speakers. Through our trusted network, black people are being trained, empowered, and paid to serve audiences around the world by tapping into their unique gifts and delivering impactful messages.
"BSN is necessity for black speakers! I have personally found my voice here and have hired members of the Black Speakers Network to design my website and do my copy! Brian J Olds has built a fabulous organization and I'm proud to be in it!"
"I'm a proud BSN member. Community is a powerful tool in your speaker box. BSN puts you in position to execute at a higher level in the speaker industry. Through books, webinars and lists of speaking opportunities they help you to get paid to speak."
"As a result of following up on Brian's invitation to join the Network and become active in the group, we completed a live stream video interview. After less than 24 hours later, I booked 2 consultations, secured a 1-year trainer agreement, was invited to train for a nonprofit, and I submitted 4 Speaker Proposals on the national platforms for global speaking and teaching opportunities."
"The epitome of professionalism, BSN is attentive to Its members. You might be surprised when you receive that unexpected call to speak or be featured on the BSN site. Either way, the exposure is worth the membership-experience. Moreover, the support system which includes a broad range of classes and the works is pretty amazing. It has been a an awesome journey for me."
"As a proud BSN Premium Member and Platform Partner, this network has been invaluable to my wife and I as Speakers and Small Business Owners. We have taken advantage of countless speaking engagements in our own home state as well as across the country as well as forge some pretty incredible relationships. The learning and development component, of the network, is an amazing tool that has allowed us to fast track learning new things, platforms, and information. If you are not a BSN Premium Member, we strongly urge you to make the commitment today. You will not be disappointed."
"BSN has enabled me to gain a foundational understanding of the speaker business. Not only have the resources increased the number of speaking engagements I have received, but the I have developed strong partnerships with key trailblazers within the industry. Most of all, BSN has increased visibility and sales of my first published book, Destined for Greatness. I would recommend the group for anyone looking to find and amplify their voice among a group of like minded individuals."