Date
May 06 2021
Expired!
How To Build A Six Figure Business On a Shoestring Budget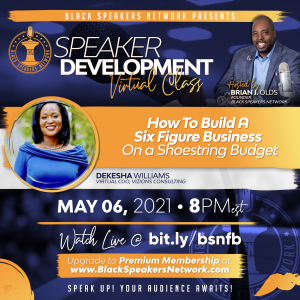 DeKesha Williams, known as the Virtual COO, Business Strategist, and Leadership Development Trainer, is the CEO of Vizions Enterprise. Vizions Enterprise helps clients with business expansion and infrastructure development. Driven by a sincere desire to inspire, motivate and educate entrepreneurs to implement systems and processes to increase profitability; Ms. Williams is committed to leading her clients towards success.
Introducing Your Outsourcing Club, the number one membership created for entrepreneurs by entrepreneurs. We created this membership because we know how much time it takes to find quality team members. We have seen so many solopreneurs not launching because they are stuck with the technological aspects of their business.